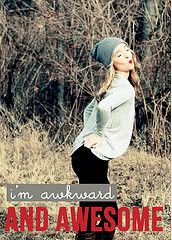 Awkward:
Leonardi Da Vinco

(um, ya know, not that I said that or anything... and definitely not while I was trying to show off my smarticleness with an amazing fact or anything. so there.)

My sister. Roaring. While she smacked the ball. During 57 games of tether-ball. Of which I dominated 57.
Being drug by five little children to the sand volleyball pit - only to have them all turn on me at the same time with stinging, nasty-tasting handfuls of sand. I left the sand.
this happening to me all. the. time
Awesome:
Winning a game of solitaire. I'm telling you, people, this never happens!
Making banana bread that everyone loves.
sunburn = gone!
The way Titus says necklace. It's kinda like "nuck-loss" but I really can't do it justice with a keyboard. I simply have no idea how he does that, but I love it.